Official Start ceremony of the 56th RallyRACC
14/10/2021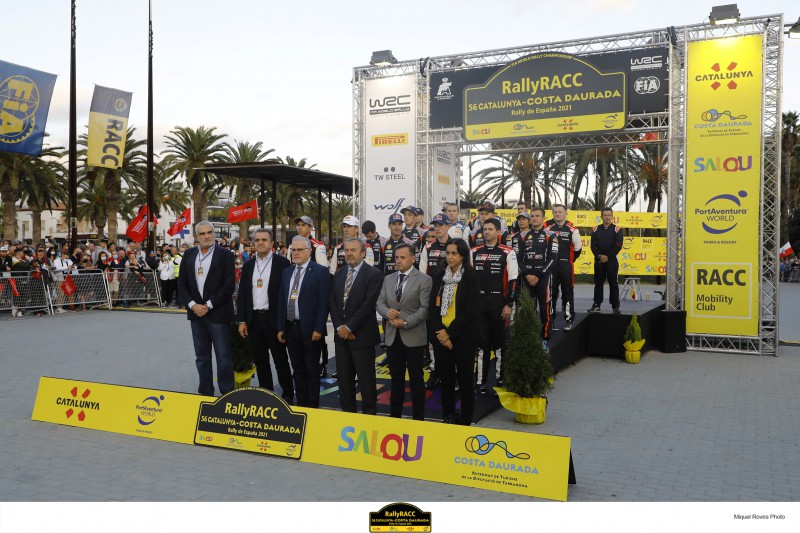 At 19 hours today, from the podium located on the Passeig Jaume I in Salou, the official Start ceremony of the 56th RallyRACC Catalunya-COSTA DAURADA, Rally of Spain 2021 took place. All participants, at the rate of one car per minute, have passed through the podium to officially begin the race, although it will not be until tomorrow Friday, October 15, when the 68 authorized teams will compete in the special stages.

The ceremony was attended by Mr. Pere Granados, Mayor of the Salou City Council; Mr. Josep Mateu, President of the RACC; Mr. José Manuel Franco, President of the Consejo Superior de Deportes; Mr. Manuel Aviñó, President of the Real Federación Española de Automovilismo; Mr. Joan Ollé, President of the Federació Catalana d'Automobilisme; and Ms. Marta Farrero, Director of the Patronat de Turisme de la Diputació de Tarragona.

The first day of the race, this Friday, October 15, will consist of 6 special stages and a total of 112.02 km out of the 660.6 km of the stage. The three special stages, which will be run twice, will be Vilaplana (20 km), La Granadella (21.80 km) and Riba-roja (14.21 km). The stage will start at 7:55 am from the service park of PortAventura World and will end in the same place from 20:44 pm, after 45 minutes of service and a previous pass through the podium in Salou.