Ogier, Latvala and Sordo, top three after the first day of the 49th RallyRACC
(25/10/2013)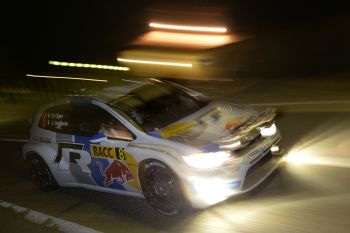 Sébastien Ogier (VW). RallyRACC 2013
The 49th RallyRACC Catalunya-COSTA DAURADA, Rally de Espańa 2013, started this afternoon at the Barcelona Cathedral in a ceremony that was followed by a huge crowd. After the three stages of the day, all of them at night, the new World Champions, Sébastien Ogier-Julien Ingrassia (VW Polo R WRC), lead the race ahead of their team mates, Jari-Matti Latvala-Miikka Anttila, that in the last stage were able to overtake Dani Sordo-Carlos del Barrio (Citroën DS3 WRC) in the provisional standings.
The penultimate round of the FIA World Rally Championship was short in the sporting side, but very intense, as during the afternoon the riders participates in several promotional activities that contributed to make Barcelona live the RallyRacc with more passion than ever.
During the first stage, Querol (21,26 km), Sébastien Ogier (VW) set the fastest time ahead of Dani Sordo (Citroën, at 3") and Jari-Matti Latvala (VW, a 3,1"), with the first Ford, driven by Thierry Neuville, in fourth place, more than 6 seconds behind.
A short path took the participants to El Montmell (24,14 km), a stage where Ogier showed his intentions again, increasing his advantage by 3.6 seconds more over Sordo who, nevertheless, was able to keep his pace ahead of the rest of the drivers. Third was Latvala (5.6 seconds behind) and Neuville fourth (8.8 seconds behind). Although the differences are small, the positions start to settle with Ogier, Sordo and Latvala separated by less than 9 seconds and Neuville 15 seconds away.
Nearly two hours later, in the last stage of the day, Riudecanyes (16.35 km), the Volkswagen of Ogier and Latvala took the two first places while Sordo lost a few seconds and dropped to third, which will allow him to start tomorrow behind the two Polos. In the other classes, first place for Robert Kubiça (Citroën) in WRC2, Enrique García Ojeda (Citroën) in WRC3 and José Antonio Suárez (Ford) in Junior.
After this difficult and original night show, the 49th RallyRACC will face tomorrow a 155.6km day, divided into six stages, one of them inside Salou. The stages and times are as follow: Riudecanyes (16.35 km, 09:05h), El Priorat (42.04 km, 10:05h) y Colldejou (26.48 km, 11:46h), arriving to the first Service at PortAventura around 13.08h. The second loop will start with El Priorat (42.04 km, 14:33h), then Colldejou (26.48 km, 16;14h) and it will finish in Salou (2.24 km, 17:37h). Then the cars will have a Service of 1h.15' to change the configuration to gravel for Sunday.
49th RallyRACC Provisional Overall Standings after day 1
1-Sébastien Ogier-Julien Ingrassia (Volkswagen Polo R WRC), 34'39"9
2-Jari-Matti Latvala-Miikka Anttila (Volkswagen Polo R WRC), a 8.8
3-Daniel Sordo-Carlos del Barrio (Citroën DS3 WRC), a 12.6
4-Thierry Neuville-Nicolas Gilsoul (Ford Fiesta RS WRC), a 19.1
5-Mikko Hirvonen-Jarmo Lehtinen (Citroën DS3 WRC), a 27.3
6-Andreas Mikkelsen-Mikko Markkula (Volkswagen Polo R WRC), a 27.8
7-Evgeny Novikov-Ilka Minor (Ford Fiesta RS WRC), a 28.5
8-Mads Ostberg-Jonas Andersson (Ford Fiesta RS WRC), a 1'07.7
9-Hayden Paddon-John Kennard (Ford Fiesta RS WRC), a 1'09.0
10-Martin Prokop-Michal Ernst (Ford Fiesta RS WRC), a 1'13.0