The 49 RallyRACC starts this afternoon from Barcelona
(25/10/2013)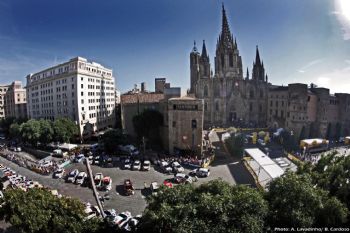 Start of RallyRACC 2013 in Barcelona
Barcelona is breathing motor sports. The Parc Fermé holding the 64 participants of the 49 RallyRACC Catalunya-COSTA DAURADA is set-up in front of the majestic Barcelona Cathedral since 15.30h, ready for the staging of the ceremonial start at 18.00h that will mark the official start of the first of three race days of the 2013 edition of the Spanish Rally, organised by RACC.
Drivers, co-drivers, team representatives, vehicles all ready and set, fans, foreign followers, curious people attracted by the huge infrastructure, which is necessary to integrate the true start of a world championship rally round into the great Catalan capital, are crowding the esplanade around the stairs of the beautiful Cathedral, giving one of the most visited areas of Barcelona a touch of colour and a different aspect to the surrounding Gothic architecture.
In the morning, kids were enjoying the pre-rally activities, such as Bicivismo, a road safety activity aimed at schoolchildren. At the same time, the preparations to adapt the area to the needs of the rally were progressing, with the imposing podium and the respective ramp, which participants will drive down starting from 18.00h.
The drivers have delighted the hundreds of fans, taking part in an autograph session that followed the official presentation. Next there will be a photo-shoot with all FIA priority drivers and attending authorities, including Barcelona Mayor Xavier Trias.
The first participant will take the start at 18.00h, this being the crew recently crowned as 2013 World Champions, Frenchmen Sébastien Ogier-Julien Ingrassia, who will be opening the rally, to be followed in one minute intervals by the remaining crews. The cars will cover the urban itinerary at moderate speed, passing Portal de l'Àngel, Plaça de Catalunya, Ronda Universitat, Sepúlveda, Plaça Espanya, Gran Via, heading for the AP2 highway. This itinerary is considered a road section, which means that they have to adhere to the general traffic and safety regulations.
Before reaching the end of the day at the PortAventura theme park (23.22h), the drivers will run three night stages, all of them on asphalt: Querol (21.26 km/20.03h), El Montmell (24.14 km/20.44h) and Riudecanyes (16.35 km/ss.45h).
The times can be followed live at www.rallyracc.com, a website holding complete information on the rally, the itinerary, the entrants, an extensive guide for spectators, HD pictures and daily summaries in Spanish, Catalan and English.