50 RallyRACC, SS10: Jari-Matti Latvala and VW shine in the first tarmac stages
25/10/2014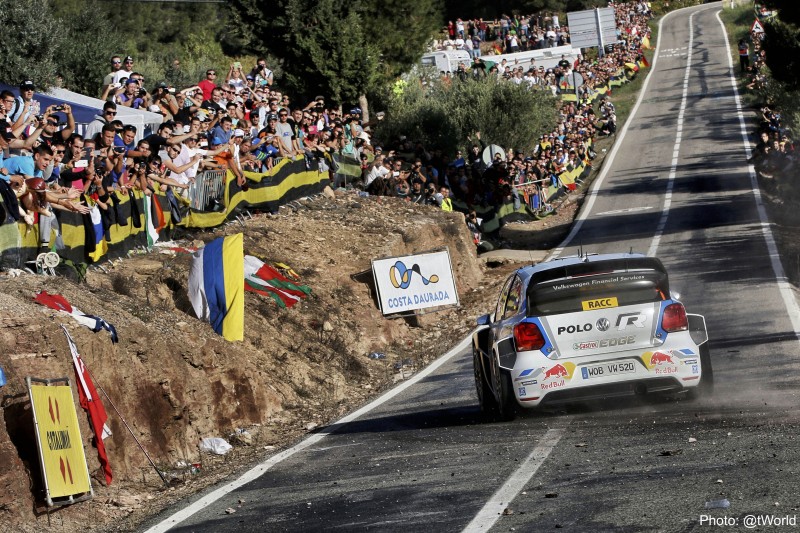 The first pass through the long Escaladei stage, which has 50km as a homage to the 50 editions of the RallyRACC, was the first endurance test for both cars and drivers. The fastest time was set by Jari-Matti Latvala-Miikka Anttila (Volkswagen Polo R WRC), who with a time of 29144, and 102.60 km/h of average speed set a small milestone in the history of the race.
The time set by the Finnish driver added to the scratch he set in the Tivissa stage- shows his efficiency on tarmac. The second fastest in this stage were his team mates Ogier-Ingrasssi, only 2 seconds behind Latvala and 7 seconds ahead of the first Ford due, Hirvonen-Lehtinen, who confirm their recovery, as they were able to get the third overall position back. At Colldejou, Latvala completed a great performance with yet another fastest time. Three out of three, he could not have done better.
After the first three stages of the day, Ogier keeps the overall lead followed byt Latvala (at 283), Hirvonen (at 519), Mikkelsen (at 574), Ostberg (at 1089) and Dani Sordo, 140 behind Latvala. Following the service at PortAventura, the teams will pass again through Escaladei and Colldejou and then the only urban stage in Salou. The second pass through the 50km stage will start at 14h16.